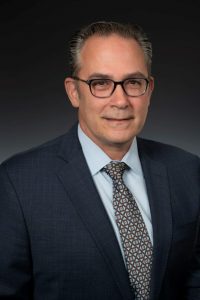 Mr. Riso practices in several areas of law, including Civil Trial and Appellate Practice,
Complex and Commercial Litigation, Casualty Defense, Zoning and Planning, Civil Rights,
Education Law, Construction and Premises Liability, Insurance Coverage, Claims and Disputes,
Declaratory Judgment Actions, and Employment and Labor Law. Year Joined Firm 2021. Mr. Riso previously worked at the Firm from 2000-2007.
Education
– Rutgers University School of Law, Camden, New Jersey, Juris Doctor Degree, May 1992
– Dickinson College, Carlisle, Pennsylvania, Bachelor of Arts in English and Political Science, May 1989
Recent Employment Positions
– September 2021 – Present, Zeller & Wieliczko, LLP, Present Cherry Hill, New Jersey, Attorney
– 2014 – 2021 Platt & Riso, PC, Stratford, New Jersey, Partner
– February 2007 – December 2013, Marrazzo & Platt, PC, December 2013 Stratford, New Jersey, Attorney
– November 2000 – January 2007, Zeller & Bryant, LLC, January 2007 Cherry Hill, New Jersey, Partner
– 1992 – 2000 Duffy & Quinn, Philadelphia, Pennsylvania, Attorney
– 1991 – 1992 Honorable Joseph H. Rodriguez, United States District Court for the District of New Jersey, Legal Intern
 
Representative Cases:
 Shamrock Creek, LLC v. Borough of Paramus, United States Court of Appeals, Third Circuit, March 23, 2017, 683 Fed.Appx. 142, 2017 WL 1097081
McCann v. Borough of Magnolia, United States Court of Appeals, Third Circuit, November 5, 2014, 581 Fed.Appx. 125, 2014 WL 5660701
Armano v. Martin, United States Court of Appeals, Third Circuit, July 28, 2017, 703 Fed.Appx. 111, 2017 WL 3207136
Dement v. Township of Haddon, United States District Court, D. New Jersey, Camden Vicinage, November 17, 2016, Not reported in Fed.
Armano v. Martin, United States District Court, D. New Jersey, January 15, 2016, 157 F.Supp.3d 392, 2016 WL 184418
Brodo v. Township of Haddon, Superior Court of New Jersey, Appellate Division, May 9, 2019, Not Reported in Atl. Rptr., 2019 WL
Hudson v. Elliott, Superior Court of New Jersey, Appellate Division, December 15, 2005, Not Reported in A.2d, 2005 WL
Camper v. Whelan, Superior Court of New Jersey, Appellate Division, September 27, 2006, Not Reported in A.2d, 2006 WL
Maimone v. City of Atlantic City, Supreme Court of New Jersey, July 20, 2006, 188 NJ 221, 903 A.2d 1055
Platinum Links Entertainment v. Atlantic City Surf Professional Baseball Club, Inc., United States District Court, D. New Jersey, May 23, 2006, Not reported in F.Supp2d, 2006 WL 1459986
Areas of Practice
Civil Trial and Appellate Practice
Complex and Commercial Litigation
Casualty Defense
Zoning and Planning
Civil Rights
Education Law
Construction and Premises Liability
Insurance Coverage, Claims and Disputes
Declaratory Judgment Actions
Employment and Labor Law
Bar Admissions
Supreme Court of New Jersey (1992)
Supreme Court of Pennsylvania (1992)
Third Circuit Court of Appeals
United State District Court for the District of New Jersey
United States District Court for the Eastern District of Pennsylvania