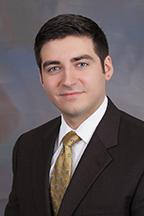 Cosmas P. Diamantis is an associate attorney who practices in several areas including, but not limited to, complex civil litigation, employment and labor, municipal and government, and land use. Cosmas has successfully represented individuals, labor unions, local municipalities, and private corporations before various tribunals including New Jersey State and Federal Courts, the Office of Administrative Law, the Public Employment Relations Commission, various State agencies, and binding arbitrations.
Prior to joining Zeller & Wieliczko, LLP, Cosmas had the honor of serving as a Judicial Law Clerk in the New Jersey Superior Court, Law Division, Civil Part, for Judges Stephen M. Holden, J.S.C. (retired) and Anthony M. Pugliese, J.S.C. (now P.J.Cv.), as well as a Judicial Intern in the New Jersey Superior Court, Appellate Division, for Judge Marie E. Lihotz, P.J.A.D.
During law school, Cosmas was awarded the Marshall Brennan Fellowship, where he studied teaching pedagogy and taught a public high school class four days per week in an urban school district. In addition, he traveled to Vienna, Austria, for an International Moot Court Competition to compete against over 290 law schools from around the world and helped his team to move to advanced rounds. Lastly, as certified legal intern in the Rutgers Children's Justice Clinic, Cosmas successfully argued a motion for a directed verdict that resulted in the dismissal of all charges brought against his juvenile client by the county prosecutor.
When not practicing law, Cosmas is an active member of his community. As a member of the Camden County Bar Association, he frequently volunteers his time to help organize various charitable and fundraising events focused on aiding residents of Camden County. Similarly, as a member of the Order of AHEPA, he helped organize the Philadelphia Greek Independence Day Parade, the regional Hellenic History Tournament, and other fundraising events to raise money for scholarships and other charitable projects. Year Joined Firm 2013
Education
– Rutgers School of Law – Camden, Camden, New Jersey
Juris Doctor – 2012
Honors: Dean's Scholar
Honors: Recipient of Dean's "Pro Bono Publico" Award for Exceptional Service
Honors: Fellow, Marshall-Brennan Fellowship
Honors: Competitor, Appellate Advocacy: Hunter Moot Court
Honors: Teaching Assistant and Competitor, Willem C. Vis International Moot
– Rutgers University, Camden, New Jersey
Bachelor of Arts cum laude – 2009
Honors: Alpha Sigma Lambda Honor Society
Honors: Teaching Assistant, Ethics and Policy in Criminal Justice
– Rutgers University, School of Management and Labor Relations, New Brunswick, New Jersey
Certificate in Public Sector Labor Relations – expected 2018
Rutgers University, School of Business, Camden, New Jersey
M.B.A., Master of Business Administration – 2017
Honors: President-Elect, Rutgers MBA Association
Honors: Secretary, Rutgers MBA Association
Honors: Teaching Assistant, Willem C. Vis International Moot Court
Representative Cases
Shinn v. Zoning Bd. of Adjustment of Cherry Hill

, A-2920-13T4, 2015 WL 4487722 (App.Div. 2015)
Pennsgrove Assocs., LP v. Carneys Point Twp. Planning Bd., A-1779-13T1, 2014 WL 9988553 (App.Div. 2015)
In the matter of the Tenure Hearing of Chet Churchill, State-Operated School District of the City of Camden, Camden County
In the matter of the Tenure Hearing of Bruce Turner, State-Operated School District of the City of Camden, Camden CountProfessional Associations and Memberships
Member, Young Lawyers Division, Camden County Bar Association
Member, Board of Trustees, Camden County Bar Foundation
Member, Young Lawyers Division, New Jersey State Bar Association
Order of AHEPA (American Hellenic Education Progressive Association), Member, Camden Chapter / Co-Chair, Young AHEPA Committee
Voting Member, Greek American Chamber of CommercePast Employment Positions
Judicial Law Clerk to the Hon. Anthony M. Pugliese, J.S.C., Superior Court of New Jersey, Camden Vicinage – Civil Division (2013)
Judicial Law Clerk to the Hon. Stephen M. Holden, J.S.C., Superior Court of New Jersey, Camden Vicinage – Civil Division (2012-2013)
Certified Legal Intern, Rutgers Children's Justice Clinic (2011-2012)
Judicial Intern to the Hon. Marie Lihotz, P.J.A.D. , Superior Court of New Jersey – Appellate Division (2011)
Summer Associate, Brown & Connery, LLP (2011)
Judicial Intern to the Hon. Stephen M. Holden, J.S.C., Superior Court of New Jersey, Camden Vicinage – Civil Division (2011)
Judicial Intern to the Hon. Stephen M. Holden, J.S.C., Superior Court of New Jersey, Camden Vicinage – Criminal Division (2010)
Areas of Practice
Corporate
Employment and Labor
Land Use, Zoning, and Redevelopment
Landlord/Tenant
Litigation and Appeals
Municipal and Government
Municipal Liability
Public Schools and Education
Bar Admissions
Supreme Court of New Jersey
Supreme Court of Pennsylvania
U.S. District Court District of New Jersey
U.S. Court of Appeals 3rd Circuit